Hailing from Norwich (the only other thing of note to come from Norwich is 'The quiz of the Week with Nicholas Parsons ;) ),
Milli Manders and the Shutup are
Millie Manders – Vox/Alto Sax/Uke
Lewis Slater – Guitars
Matt Munford – Bass
Alessandro Vitiello – Drums
Nick Onley – Tenor Sax
George Alan – Trumpet
Dom Walker – Tenor Sax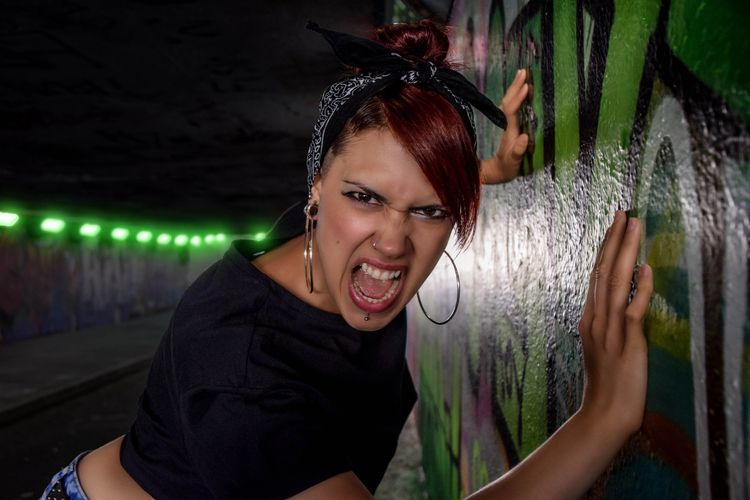 Millie Manders and The Shutup's promotional blurb goes like this:
MMATSU create cross-genre punk that is hard to ignore. With lyricism that pokes fun, draws you in or leaves you questioning social norms teamed with incredible vocal dexterity, grinding guitars, irresistible horn hooks and a pumping rhythm section. 
2018 has seen Millie release an 'almost acoustic' EP and the band release "SHUTUP" and EP that has been track of the week with the lead single "One That Got Away" on Radio Norfolk via BBC Introducing and Radio Woking, and caught the attention of John Kennedy – Radio X who played both Right To Life and One That Got Away exclaiming "You knew she (Millie) was a star".
I went fully prepared to dislike this act – I'd seen some videos online and their punky sound really isn't my thing. However, I was pleasantly surprised!
They definitely didn't have much of a crowd, but you could see Millie was just happy to be up there performing. The vocal sound wasn't great, unfortunately it was tough to make out any of the lyrics – but in terms of her talent, she was a great frontman!
The band weren't interacting with the crowd at all, this was all left to Millie. I took the micky out of the band members after the show and they assured me it was all part of their act!
Their set was a fun start as support act for The Dub Pistols!
Arch and Loren